Will she risk everything, no matter what the price?
Jessie Clifton only wants one thing: The Sapphire Pendant, an heirloom her father sold years ago. When offered an opportunity to win the pendant back by charming an eligible bachelor, the hotheaded tomboy impulsively accepts. She soon regrets her decision when she learns that her target is Kenneth Preston, a man she's hated for years.
Nevertheless, determined to win, she trades in her running shoes for high heels and jeans for dresses and puts her plan into action. But what starts out as a harmless wager leads her down a dangerous trail of secrets that could change her life, destroy the man she's come to love and affect an entire community.
Available in print or electronic formats from $4.99
Amazon,Barnes and Noble, iBooks, Kobo Indie Bound and other booksellers.
THE AMBER STONE
Will she lose what she desires most?
Cruel rumors swirl around herbalist Teresa Clifton. Rumors that she caused the death of her best friend.
Desperate to escape her past, she buys a natural health store and settles in a new town, which puts her in the path of Sean Casey. A man haunted by his own grief.
Soon Teresa finds herself falling for the handsome, mysterious stranger. But loving him comes at a price. A price that could cost her everything.
The romantic and stunning second novel in the Clifton Sisters trilogy.
Available in print or electronic format from $4.99
Order at Amazon, Barnes and Noble, Kobo, iBooks Indie Bound or other booksellers.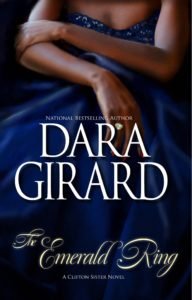 The Emerald Ring
Will she risk her heart again?
Successful businesswoman, Michelle Clifton, knows the pain of loss. She lost her parents to illness and the man she loved left her. Now she may lose the one thing she holds dear: her business.
When Michelle receives a notice that her lease won't be renewed, she fears that her wealthy and powerful estranged husband, James Winfield, may be behind the threat. However, she won't go down without a fight, even if that means facing him again.
And the secrets they shared.
Dark secrets that will either come to light or destroy the love they'd once had, tearing them apart—forever.
The thrilling conclusion to the Clifton Sisters trilogy.
Available in print and electronic format from $4.99
Buy now at various retailers here
The Clifton Sisters: Three Book Collection
Three mysterious sisters…three compelling stories…one big volume
The Sapphire Pendant
The Amber Stone
The Emerald Ring
Available in electronic format at $9.99
SHORT STORY
Kenneth Preston wants the perfect Christmas for his wife and daughter.
But the sight of stones left on his doorstep warn that may not be possible.
As Christmas draws near, he struggles to fight the ghosts of his past, which threaten to steal what he loves most
For readers who fell in love with Jessie and Kenneth in The Sapphire Pendant, you'll enjoy this short holiday tale.
Available in electronic format at $2.99
Buy at Amazon, Barnes and Noble, Kobo, Apple or other booksellers.