Table for Two
Henson Series Book 1
After a disastrous weight-loss program and devastating divorce, self-help author and teacher Cassie Graham calls it quits—on diets and on men. So, when she meets reclusive restaurant owner Drake Henson—a man with gorgeous eyes, a sexy grin and a large appetite for food—Cassie knows exactly what to do. Run for cover.
Drake knows all about running. After years of distancing himself from his past and the challenges of raising his two younger siblings on the streets of DC, he enrolls in one of Cassie's classes to improve his social skills. But when he meets Cassie, she turns his world upside down.
For the first time in his life, Drake gets his first taste of true desire. Now, he must find a way to win Cassie's trust and convince her that only the size of her heart matters.
Available in print, large print, and electronic format from $4.99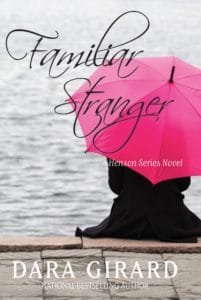 Familiar Stranger
Henson Series Book 2
A man from the past…
Greta Rodgers dreads her twentieth high school reunion.
Until the chance to reunite with an old high school crush changes her mind.
Unfortunately, the night becomes a disaster when her crush introduces her to his beautiful wife, people laugh at her outdated clothes, and then she gets mugged on her way home.
But the night takes an unexpected turn when a handsome stranger comes to her rescue.
A man who may not be a stranger at all.
Available in print and electronic format from $4.99
Gaining Interest
Henson Series Book 3
Aspiring lingerie designer Adriana Travers loves bad boys—not practical, plodding men like her financial advisor Eric Henson. The handsome bachelor can handle her money affairs, but affairs of the heart are completely off limits.
Eric agrees. Women like Adriana don't fit his plan. After spending years growing his business he wants to marry a woman who will keep him on the right path—not prove a distraction.
But when Adriana treats him to a night out for his birthday, Eric starts to see Adriana in a sexy new way that could upset all his carefully laid plans. And Adriana sees a wicked side to Eric that makes her heart pound.
Soon she'll discover that when it comes to being bad, Eric could show her a few things…
Available in print, large print, and electronic format from $4.99
Careless Rapture
Henson Series Book 4
Jackie Henson needs help fast.
Not because her boyfriend plans to marry his ex-wife or because a major benefactor for her nonprofit organization drops dead. No, she needs help when clients start disappearing. And she knows the one man who can help her–private investigator Clay Jarrett. A man with dangerous secrets.
Clay wants nothing to do with Jackie. He likes to solve puzzles but he can't figure the petite beauty out and tries to keep his distance. However, when he takes her case to keep her out of trouble, that decision ignites powerful feelings neither expected.
But their burgeoning attraction must take a backseat as they hunt for the missing clients and follow the trail of a dark criminal who will force them to face their worst fears and their greatest desires.
Available in print, large print, and electronic format from $4.99
Dangerous Curves
Henson Series Book 5
Playboy Kevin Jackson likes fast cars and fast women.
But when a car accident sends a close friend to the hospital and leaves him with no memory of what happened, his life spiral out of control.
Until he hires Dominique Cartwright as his new driver.
But the statuesque beauty comes with secrets of her own.
Secrets connected to his lost memory that could threaten everything he hold dear…including the woman he loves.
Available in print and electronic format from $4.99
The Henson Brothers: Two Complete Novels
Includes the novels Table for Two and Gaining Interest
Available in electronic format from $7.99
Out of the Past: Two Complete Novels
Includes the novels Familiar Stranger and Careless Rapture
Available in electronic format from $7.99